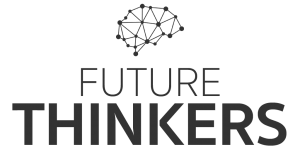 A PODCAST ABOUT THE FUTURE OF HUMANITY
AND THE EXPLORATION OF CONSCIOUSNESS
Hi, We're Mike and Euvie.
We are the co-hosts and producers of Future Thinkers Podcast. We're passionate about consciousness exploration, geeking out over the future, and weird cutting edge ideas. Our podcast is sometimes just a conversation between Euvie and Mike, and at other times we interview other people, from leading scientists, fiction writers, entrepreneurs, to out-there consciousness explorers, psychonauts and vagabonds. Our main intention with the show is to share epiphanies, explorations, and mind blowing discoveries with you. We also want to shine a light on the ideas and technologies that give us hope and optimism for the future.
I've been greedily listening to your podcasts as a Saturday morning routine. Super stoked to have found you. Just wanted to say thanks for the very interesting work you guys are putting out there, so thanks! :)

Big fan of your show. I got a lot out of listening.

Future Thinkers is a mix of spirituality like buddhism, philosophy and technology speculation. Mike and Euvie will make you think through Minecraft existential poems, dreams of butterflies and Chinese Philosophers and how we value individualism vs. merging into the borg. And many more things!

I found your conversation so inspiring. Excellent podcast. Glad I found you… Coming back to the modern thought and its many intricacies, you are king and queen.

I feel you two are doing important work.

Hey I just started listening to your podcast and I really enjoy it! Episode 8 was really well done as an open conversation. Just wanted to say, keep it up!

It's really great having a female perspective on this stuff. Like other tech fields, Transhumanism and Singularity subjects are "mostly" male run, so I love hearing Euvie's opinions. Not that Mike doesn't bring lots to the table as well, but it's a fresh twist :)

I recently binged on your podcast and I love it! Thank you so much for all the work you must put in to it. Now I'm starting to binge on your videos and other content, if only I had more free time!

Mike Gilliland and Euvie Ivanova are two insightful, acceleware futurists. They have a refreshingly humanistic take on the singularity, human empowerment and spirituality in a world of accelerating change.

Hello, I really enjoy your podcasts and this episode was all about why I love you guys. Keep doing what you are doing, thank you. Greetings from Guatemala.

I want to say you are doing a stellar job and I really enjoy and look forward to your podcast. Very diverse and relevant.

Must-listen for any thinking person. 100% worth the time.

Really loving the podcast. Keep being awesome. :)

Big fan of the podcast and good to hear you're planning on more episodes soon.

I love the podcast. It's redirected my own blog and made me a futurist. I'd love to share ideas. Keep up the great work!
The Art
We do all of our own art.
The episode artwork, graphics and quote images, apparel, and video design is done by us. If you'd like to see how we do it, watch our behind the scenes videos on the Visuals page. If you'd like a print, T-shirt, hoodie, or laptop case, go to redbubble.com/people/futurethinkers
Listen to the episode here.

Listen to the episode here.

Listen to the episode here.

Listen to the episode here.
People's ideas of "right" and "wrong" change—and...

Literally millions of europeans are living on the edge of un...

You're a ghost driving a meat-coated skeleton made of ...

"The artist's task is to save the soul of mankind; and a...

As we progress through the 21st century and develop new tech...
Fun Facts with Mike and Euvie
We Are Nomadic
We met in Vancouver, Canada but for the past 4 years we've been traveling non-stop through Asia and Europe, and have only recently semi-permentantly settled in Plovdiv, Bulgaria, which is a lovely cultural city. During most of the previous 4 years we ran an online marketing agency at www.giantsupernova.com. We are media producers and self-taught marketers, and that is what has allowed us to work online and be location-indendent. We have recently decided to turn our full attention onto our own passion project: Future Thinkers. Because let's be honest, talking about the future and consciousness is far more exciting.
A Team of Just Two
We do all the research, writing, interviewing, audio editing, video editing, and graphic design ourselves, and it takes a lot of time and effort. We love it, and we'll continue to do it no matter what. But it's the contributions from our listeners that help us to create more content and build other cool things around Future Thinkers. If you'd like to become a sponsor or a contributor, visit us on Patreon, or send a donation via paypal or bitcoin at our support page.
Want to be interviewed?
If you are an author, thinker, meditator, futurist, or just a weirdo with well-developed ideas and you want to be interviewed for the podcast, send us an email. We get a lot of requests and don't always have the time to respond, but if your story or ideas are interesting and we don't have a long que of interviewees, we may just invite you on the show. But we do prefer to do the first outreach ourselves, since we often have specific topics we want to deep-dive into. That said, a good way to get on our radar is to write an article for our blog. Hoops, red tape, and song & dance can be found here.
Want to interview us?
If you're looking to interview us or write about us, check out our press page. Fair warning: we're not big into format shows, and we're very uncensored. No promises that F-bombs and dirty jokes won't be dropped. It's Euvie. She's like a Wildling from Game of Thrones.
Essential Reading
We're always listening to audiobooks, and anytime we find something noteable, we mention it on the show, in the show notes, and add it to the resources page. We've got quite a selection there and even a few reviews for you to listen to. Have a look.