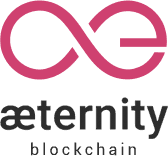 Scalable smart contracts interfacing with real world data.
Watch the interview series we did with the founders of æternity while attending the D10e conference in February 2017.
What is æternity blockchain?
æternity is a new blockchain platform in the making, which aims to tackle current issues in blockchain, such as scalability, privacy, and transaction speed. æternity's technology is meant to to be ready for mainstream adoption by using new features like state channels, oracle machine, and hybrid proof of stake and proof of work.
You can learn more about æternity's blockchain technology in their whitepaper.
æternity's first testnet is now online, where you can check out some of the features. You can create an account and start mining æon right away. Start interacting with æternity by visiting GitHub.
æternity Blockchain Explainer Infographic