WE'RE RAISING FUNDS TO BUILD EUROPE'S FIRST
VR + BLOCKCHAIN STARTUP INCUBATOR
Written by Mike Gilliland & Euvie Ivanova
Virtual reality, blockchain technologies, the Internet of things, artificial intelligence, cloud robotics, synthetic biology, and computation are all doubling, morphing and recombining. Reality is starting to look like science fiction. For the previous three years through the Future Thinkers Podcast, we have set out to deconstruct how these subjects relate to the modern human mind. We've been looking for answers to questions like How will we as individuals and as a society react to these new technologies? How will our lives be different? What can we start doing now to prepare for the future? What are the platforms and systems that we need to build to get there?
The last two questions are ones I hope to answer in this article. Virtual reality and the blockchain are two technologies that I believe will be among the most disruptive in the coming decade. We can help those technologies to come to fruition by funding the people and ideas in these fields.
WHY BLOCKCHAIN: BUILD BETTER SYSTEMS
Ever notice how the richest and most powerful institutions on the planet are ones that produce the most human rights violations, environmental destruction, planned obsolescence, and political manipulation? This is a sign of a huge problem. We're living in a broken system with many policies and financial structures that favor the ultra rich and do nothing for the rest of us. The best thing that we can do in this situation is build new systems that make the old ones obsolete – systems that are transparent, resistant to corruption, and decentralized. That is exactly what Blockchain technology attempts to do.
There is a movement happening right now. Blockchain platforms like Ethereum are poised to solve the Internet's problems of privacy, security, and inclusion. With more support and innovation, they could give us a way to live in a truly democratic and peer to peer society that comes to consensus about the laws and systems of value exchange that we live with. If, in the process of creation, we can make those old systems obsolete, then we want to be a part of it and support it in any way we can.
That's why we reached out to and interviewed Vitalik Buterin, Ethereum's founder. Since then, we've talked with many other Blockchain startup founders, developers, and app creators. We see a huge opportunity for an incubator and media network like Future Thinkers to support the development of new technologies built on the blockchain, and bring them into the mainstream.
Virtual reality is a manifestation of the ultimate creative sandbox that most geeks (myself included) have dreamt about since they were kids. Do anything, be anyone, have any experience. The ultimate creative canvas. VR is about experiencing the impossible. AR is about enhancing and augmenting our real life experiences.
With so much investment coming into the space, both AR and VR stand to transform industries in the same way the PC did in the 90's and the iPhone did in 00's. As a nomad and someone who constantly sits in front of a laptop screen, I dream about the day I can work in a keyboard-less virtual office. Since I was six years old I've been waiting to build my own virtual environments, have new 3D experiences, and forget that little window to the digital world that I'm sitting in front of at this moment.
Virtual reality is not just a platform for gaming and content consumption, it's a way to create transformative experiences. I believe it can also be a tool to transform the way people think. What better way to explore cities, digital landscapes, hostile natural environments, and other dimensions of reality and space? What better way to tell stories and share life experiences?
Using the insights gained from our show, our guests, our four years of travel, and our five years as digital entrepreneurs, we're going to build an innovation hub and Blockchain + VR Startup Incubator in Plovdiv Bulgaria. We want to create mind bending stories and digital experiences with VR and extend the Future Thinkers platform to the 3D world.
We want to support the startups, entrepreneurs, inventors, and hackers who are experimenting, building things, and taking big risks. We're going to use this hub to:
Create incubator and accelerator programs that provide mentorship, seed funding, and tools to build startups that use virtual reality, blockchain, or other digital technologies that have the potential to become disruptive.
Prevent founder burnout. That means a better lifestyle, location arbitrage, soft landings, healthy living, and tools for mental health and resilience.
Build The Future Thinkers media network and team so that we can make more content about the future.
Build the Giant Supernova media production lab so that we can tell stories of what goes on inside the incubator, make documentaries, and produce videos, animations, graphics, and websites for startups who come through the hub.
HOW WILL IT CREATE VALUE?
It will seek to solve real problems, not just build value for shareholders.
It will nurture entrepreneurship and innovation with the right mix of challenge and support. Founders and ideas need room to grow.
It will tell stories that educate, inspire, entertain, and challenge people's world views.
BENEFITS TO FOUNDERS AND INVESTORS
Founders with great ideas can compete for spots in the incubator and get access to the space, team, seed capital, and media network. They can participate in community events and programs to accelerate the growth of their ideas and get them to market quicker.
Investors will have access to a large pool of prescreened founders and startups in high risk, fast growing technological fields with a potential for large upside and impact.
UNIQUE ADVANTAGES: WE HAVE THE RIGHT TYPES OF CAPITAL
Social Capital — We're deeply involved in the global digital entrepreneurship and futurism networks and have access to experts, mentors, entrepreneurs, and futurists.
Cultural Capital — We are embedded in a city that supports innovation, entrepreneurship, technology, and cultural development, and we're part of a growing startup and IT community.
Experiential Capital — We have years of experience with bootstrapping businesses, designing all types of multimedia content for web and mobile platforms, and operating a business globally.
Intellectual Capital — We have an established content platform and a growing media network with Future Thinkers.
FEATURES OF THE PROGRAM
Innovation Factory — The idea is to create an environment where ideas are rapidly tested, prototyped, validated, and brought to market. Founders who are accepted into the program will instantly plug into a network of people who can provide services and mentorship, including business development, operations, finance, expansion, marketing, legal, product development, research, and sales.
Media Network — The intention here is simple: Give startups a content marketing platform to launch from. Attention is getting harder to come by. A solid media network requires investment of time and capital. We believe Future Thinkers is in the right position to be one of the main platforms that entrepreneurs who graduate from the program can launch from.
Coworking Spaces — We want to create spaces that encourage collaboration and free exchange of ideas. The hub will build intentionality and psychosocial design into every aspect of the facility to create mindsets for collaboration and innovation.
Holodecks —No VR lab is complete without a holodeck: space with the latest VR and AR tech.
Media Production Studio & Team — The latest audio and video production equipment, properly designed studio spaces, and live streaming equipment will give founders the ability to tell their stories and produce content. Fans of the space can also drop by our live stream events in full 3d using their VR headsets.
Human Charging Stations — Meditation has been a vital part of our success, ability to find stress relief, come up with creative solutions, and become resilient through hard times. Floatation tanks can be a hack for getting the same benefits: relaxation, stress relief, and creative thinking.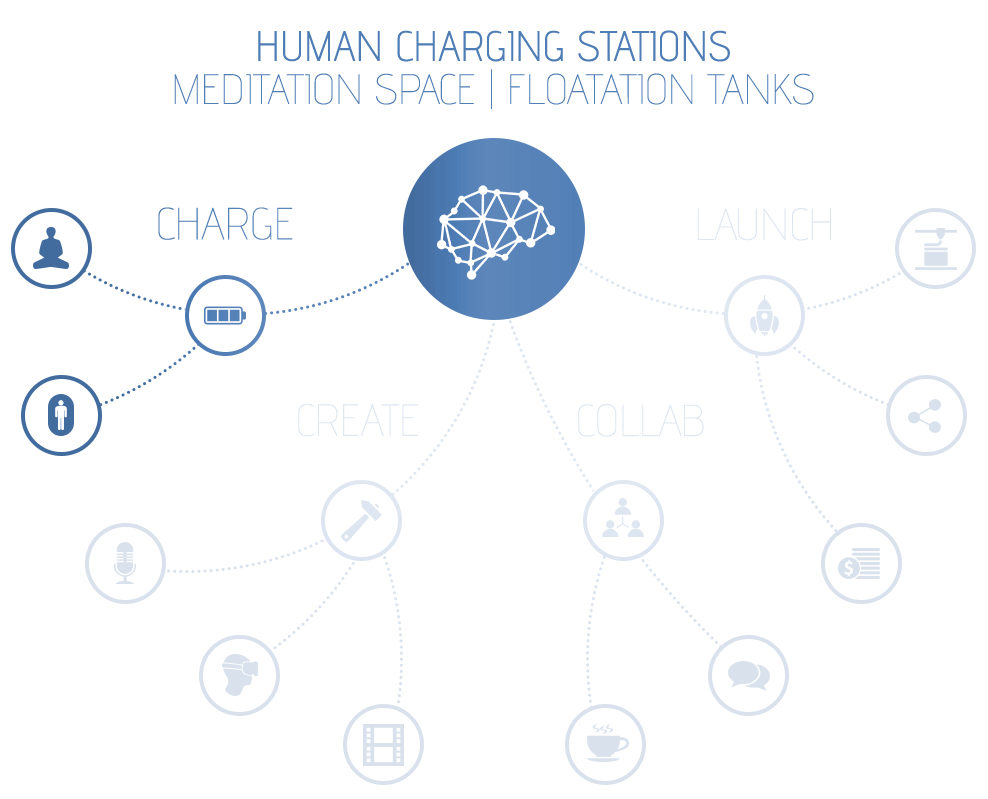 CORE VALUE: TAKING BETTER CARE OF FOUNDERS
Entrepreneurs shouldn't be thrown out with unsuccessful ideas. Failure = experience.
I've written and talked pretty extensively about failure, stress, and depression; three things common in the entrepreneurship experience. We even partnered up with Vinay Gupta to make a meditation app meant for dealing with difficult emotions and stressful situations. We've talked a lot with Vinay on our podcast about what it takes to adapt to the coming future, and the insights from those interviews will be baked into this incubator.
From the experiences we've gained bootstrapping businesses and traveling, I can tell you that founder depression is a real thing that is too often overlooked, especially by VC's. As Vinay said in his video about building a new kind of VC firm, most VC's treat the entrepreneur like a space rocket before Elon Musk: disposable. But with intention, environment, mentorship, and tools, founder depression can be overcome and the failed entrepreneur can be recycled and relaunched with more experience, more knowledge, and a higher likelihood of success. With this in mind, we've taken care to build a fail-fast methodology into our plans and program. If an idea doesn't work, it must be discarded quickly so the entrepreneur can recover and move on to the next project. This saves time, money, and stress.
We've been fortunate enough to be able to stay mobile and use location arbitrage to keep costs low, stay healthy, and live a lifestyle that supports our entrepreneurial goals. Plovdiv has ticked all the boxes for us in terms of quality of life, great food, healthy living, proximity to nature, cultural events, a local pool of talent to work with, and number of business opportunities.
If we had chosen to bootstrap our businesses in an established hub like Silicon Valley or London, we would have been living on ramen noodles and skipping out on gym memberships and other things that are essential for founders to live balanced and healthy lives and stay focused.
There is a lot to say for lesser known hubs as hotbeds of innovation and entrepreneurship. As a foreigner coming into some of these smaller hubs, it's actually easier to meet the key players and influencers. Stepping outside of the normal tech scenes and operating more globally has also given us a unique perspective to spot opportunities.
Plovdiv has a lot of business opportunities for foreign investors and founders. There's a growing IT and tech industry, the local government has been supportive of innovation and cultural development, there's affordable real estate for office space, a pool of young educated talent, some of the fastest Internet in Europe, and a 10% flat rate for corporate and personal taxes.
We've started a monthly startup meetup at Plovdiv.Digital, and we're now working to grow and nurture the startup community here.
GET INVOLVED
We're looking to build our team here in Plovdiv, find mentors with experience in Blockchain, VR, and high growth companies, and get the funding we need to get this project off the ground.
If you would like to be involved as a team member, partner, mentor, or investor, please get in touch. Also send us a message if you'd like to provide media coverage.
Sign up to get notified when we launch